Making The Right Real Estate Offer Makes All The Difference...
March 16th - 19th, 2017
Street Smart® In-Depth Training
with Lou Brown in Atlanta, Georgia
If you structure your offers today's way, you could make thousandss on leads you've been throwing away!
WHAT'S INCLUDED IN THIS EVENT:

What would an extra $100,000 do for YOU?
This is what it did for Mark and Lynn Jackson from Atlanta GA...
"I made $100,000 off a deal I thought was dead! Lou taught us that we are non-traditional investors focused on finding solutions. Without this training I would not have made this money!"
Without spending another dime on marketing, without spending an extra minute with a seller, Mark added $100,000 to his bottom line.
I'm Lou Brown, and for over 20 years I've taught thousands of people to make millions of dollars using my system for Real Estate investing. You CAN exceed your own wildest expectations! Let me show you how I do it... and how you will too! Read what's inside and save BIG $$$!
or call 1-800-578-8580
EARLY BIRD SPECIAL: Register more than 2 weeks prior to the event to get special pricing...
Call 800-578-8580 for details!  Sell two new primary clients and you can come for free!
Keep reading for your chance to instantly make AT LEAST $100,000 in profit!
Stop Throwing Good Money Leads Away!
Let 30-year Real Estate investor and trainer Lou Brown show you how to create... not lose... great deals!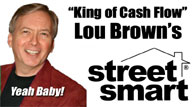 I've been through markets like this one and before and can teach you EXACTLY what to do now! The timing couldn't be better -- blood in the streets while banks and homeowners crash and burn. You can save them -- I'll show you how!
I've combined my most money-making deal structuring secrets into a powerful 4-day training that will teach you how to squeeze every penny out of any lead!
My Millionaire Deal Maker™ training is where I reveal personal earned-through-blood-sweat-and-tears deal structuring strategies created over the last 30 years of being in Real Estate. In Millionaire Deal Maker™ (MDM) training, I teach you how to craft true win-win deals, how to make offers that no seller can refuse, how to get into deals with no money and little risk and how to pull all of the profit out of a deal.
That's a lot, but not nearly all! At this event, I'm going to "fill-in-the-blanks" in other people's training and I'm going to show you EXACTLY how to negotiate and structure every deal, even the ones you thought were trash! Forget the old adage: "profit is all about the leads", it isn't! Profit lies in what you do with the leads and that is what I will be teaching at my next event.
Others say this training is the best real estate training out there. You won't find it anywhere else. And you'll meet the great people who have become my loyal licensees and created millions of dollars in wealth for themselves throughout the country! You'll have time to sit and talk with me, with my Millionaire's Club members, with my new BizWiz™ local area representatives who coach real estate investors like you in your own backyard, and with smart, savvy business folks like you who want the real deal.
Simply speaking, my MDM training is the most important thing you can do for your financial future. If you haven't figured that out already, read on! Inside this guide to MDM, you'll find select secrets that you can begin to apply immediately, success stories that will motivate you to change your life starting today, details about what exactly you'll get out of Millionaire Deal Maker™, and a list of the $10,475 worth of bonuses you'll get at my event! Take my word for it - keep reading!
Success stories from MDM students...
We now have 24 properties producing $60,000 dollars passive cash flow yearly and we are looking at our biggest year of income ever. Our equity is now over $600,000 dollars and our net worth has tripled. And this is one year after graduating your MDM training. I cannot afford to miss anything Lou Brown has to offer.

Jim Williams and Karen Rittenhouse, Greensboro, NC
Jackie took my advice. She bought a deal to class she thought was a loser. After review, my coaches and I forbade her from throwing the deal away. We told her exactly what to do. Jackie went back home, followed the simple plan we laid out and ended up with a check for over $109,000!

Jackie Coleman, Washington D.C.
Louis, I've spent thousands of dollars on seminars that left me with only a small portion needed to do this business. Thanks to you I just closed on a property with over $30,000 in profits.

Daniel Murrah, Atlanta, GA
Lou, I have to admit I had become too comfortable with my way of investing, but I now realize I was missing so many other opportunities to make the real money! I'm a real money machine now!

Bruce Barilar, Harrisburg, PA
His name is Lou Brown. He's a legend among Real Estate entrepreneurs because of the system he's built. He has been at it for over 25 years and he's seen it all. He's truly a man who practices what he teaches. To this day, his full time profession is real estate investing and he does it well. He's got the best system of forms and agreements for real estate on the planet. What's more his teaching skills make it easy to understand what he's teaching. Even beginners get it quickly.

Ron LeGrand, Real Estate Guru
or call 1-800-578-8580
EARLY BIRD SPECIAL: Register more than 2 weeks prior to the event to get special pricing...
Call 800-578-8580 for details!  Sell two new primary clients and you can come for free!
Four days of in-depth Certification Training on designing killer deals, pumping life into "lost" leads and crushing your competition!
We'll cover... Foreclosures... Latest Short Sale Strategies That Work... Loan Modifications... Forbearance and:
Register now to reserve
your VIP seat at this exclusive table!
Bonus #1 Valued At $2,497...
"My Interview with The Shadow - Part 1" The Bank's inside Secrets... At a recent event I interviewed a 10 plus year veteran of the banking industry and, hidden from view, he shared all the banks inside secrets! I've been told that this is the VERY best information on the insider secrets of the banking industry. I've been using it in my own business with enormous success...
 Bonus #2 The Shadow - Part II Value $2,497...
Well, the first one was so good and there was more to tell,, so I bribed my contact inside the bank to divulge even more insider secrets of getting your short sales accepted. You'll get the deep dark hidden bank secrets of government and investor programs known only to the bank negotiators and exactly how they get paid to accept your short sale -- on CD, ready to play!
 Bonus #3 Value $3,495...
This training improves each time because we update it with the latest cutting edge discoveries we find every day. You'll want to come back over and over. Re-attend this event (my most popular training) in the future and get a discount of $3,495! You'll pay only $500 to repeat the latest version! As long as this event is offered.
 Bonus #4 Value: $995...
Special "Closed Door" 4th Day of Training Free! Imagine being able to offer a seller a free credit repair in exchange for their deed (and their equity). And they'll love you for it. We'll show you how it works. You'll love this new way to buy. Also, how to clean up and improve your own credit!
 Bonus #5 Value: $2,995...
Bring a Spouse for $495 (Free if you register soon) Lord knows this business is tough enough without having to convince the one you love that it can happen. I want your spouse (or other family member) to be on board with you. Their support is critical to your success. Bring them to this event because it takes a team, a team in the office and on the home front for you to live the life you so desperately want and deserve.
 PLUS A few more surprises that I've decided to keep under wraps exclusively for the few who will be there. Will you come and get all this... or sit at home and regret missing out?
INSIGHTS FROM EVENT ATTENDEES
"If you're serious about this business... you can't afford not to attend MDM. Just one of the many ideas you learn at this event will easily make you more money than the cost. How many leads have you failed to buy because you weren't sure how to solve the seller's problem and still make money while minimizing your risk? I'll bet you said "a lot"! If the answer is one deal or more, you missed the opportunity to have made way more money than the investment of this training! You'll learn how to structure your offers and what to say and not say to your sellers. That's right, the real words! Don't delay anymore- GET TO THIS INVALUABLE TRAINING!"

- Mark Schmale,

, President, Real Estate Association of Puget Sound - Seattle, WA
"I have looked at, purchased and found that no one, I mean no one, teaches how to do the business better than Lou Brown. He gives you the tools to succeed! I have wanted to come for several years, and now having attended, I realize that I waited too long. I felt like a student who didn't complete his training. Before the live seminar I had the tools but I was clumsy with them. Now I know better how to effectively use them. I am truly licensed to deal. What a great feeling! Thank you Lou! Your dedication to our success is inspirational."

-Tim Hiebert, Bozeman, MT
"The information and knowledge I got out of Millionaire Deal Maker™ was priceless! The event was a big blessing to me! Thank you Lou!"

- Kevin Penn - Lawrenceville, GA
"If only I had done this training 3 years ago I would be at least $200,000 richer. Thanks Lou, this bootcamp is the best! I'll be back!"

- Bill Sanford - Whitsett, NC
"Using just one of your concepts on structuring deals I kept the house from going into foreclosure and bought a house worth $135,000 for $99,800. I estimate at a very conservative growth rate this will yield me well over $400,000 over the next few years."

-Mike Palombi - Lake Mary, FL
"Thanks so much Lou. I am confident that your systems and what you taught me at this event will make a big difference in my investing career and help me achieve my personal and financial goals."

- Stephen Grant - Houston, TX
"Until you attend MDM, you are leaving thousands of dollars at the bargaining table."

- Michael Belair, Wellington, FL
or call 1-800-578-8580
EARLY BIRD SPECIAL: Register more than 2 weeks prior to the event to get special pricing...
Call 800-578-8580 for details!  Sell two new primary clients and you can come for free!
Lou's Certifiably Crazy, "Who Does This?", Take It to the Bank, No Risk, 100%+ Money Back Guarantee!
Some people think I'm nuts, but I want you to commit to this event right now, with no concern over the cost, what it's worth, or even if it's a good use of your time and money. Why? I know what it will do for you. I think this is the best guarantee any trainer has ever given and I want to offer it to you...
Attend the entire first day and evening... if you are not absolutely convinced that the money making strategies you've learned will earn you truck loads of money and if you honestly think you didn't learn enough to make back over 10 times your investment over the next 90 days, then politely tell our staff and you will receive:
A 100% refund on your tuition
$50 Cash To Change Your Flight
Keep The Bonuses As Our Gift*

You must return the seminar manual and you may not take advantage of the repeater discount.
FINANCING AVAILABLE!
Please don't let concerns about money keep you from learning how to make more money!
Contact my office today and ask for Linda. We'll be sure to make Millionaire Deal Maker™ deliver a lifestyle for you and your family where money is no object!
"In the first month after attending your Boot Camp we bought 4 houses worth over $120,000 in cash and equity. I used to only know how to buy houses with low all cash offers, but now I can take them as they come and consistently buy deals no one else will touch."

- Kris Kirschner, Lawrenceville, GA
or call 1-800-578-8580
EARLY BIRD SPECIAL: Register more than 2 weeks prior to the event to get special pricing...
Call 800-578-8580 for details!  Sell two new primary clients and you can come for free!
Do YOU Need
Millionaire Deal Maker™?
Yeah Baby! You Needed this YESTERDAY!
or call 1-800-578-8580
EARLY BIRD SPECIAL: Register more than 2 weeks prior to the event to get special pricing...
Call 800-578-8580 for details!  Sell two new primary clients and you can come for free!
Just One Idea Pays For Your Training!
The market's changed in the last 6 months and you need to change with it! Often investors tell me they have come for just one idea. They understand that just one idea implemented is worth far more than the cost of the training. Smart thinking. Just one idea from this boot camp you put into practice will easily put money in your pocket now and forever. But I intend for you to have more. Why? Because you'll have a system that you can easily follow to the money now. You'll now work on your business instead of at it!
It's time to act NOW for your own and your family's future. Graduate testimonials reveal they really learn far more than "just one" money making idea, and you will too.
Let's get started now on the path to quick closings and fast cash. Can't afford it? Think about it. You can't afford not to come. This investment in yourself will yield hundreds of times more that the cost! Just like it has for thousands of my graduates over the years. MDM is my favorite events. Why? Because I watch folks just like you receive the tools they REALLY need to succeed in this business from the training and their eyes lights up when they realize they are so much closer to their dreams because they have the skills... and they even make deals right there!
Come learn to be a Millionaire Deal Maker™ and earn the Certified Deal Specialist (CDS) Designation in Atlanta, Georgia. This incredible event is designed to show you exactly how to get to the money PLUS receive a FREE bonus day of vital training.
EARLY BIRDS receive a travel allowance. This event is just pennies for the dollars you'll make! I can't see how you can afford not to come. I wish this training had been available for me when I was losing tons with all the deal making mistakes I could have avoided. I would have paid a lot more to avoid that.
P.S. EXTRA BONUS: We've arranged for a special rate at the host hotel. Once you register, we'll give you information on how to get your special rate. At our last event all the rooms were sold out, so don't delay.
P.P.S. SPECIAL SOFTWARE: Don't forget my powerful Real Deal Maker™Autofill software that all graduates receive!
P.P.P.S. LIMITED SEATING: I am committed your success. That's why I will not overcrowd this event. Call now to make sure you can get in this event before the decision makers get all the seats!
P.P.P.P.S... Remember, bring deals with you to the event you couldn't work and leads you thought were dead. Let's find the money in those deals together!
or call 1-800-578-8580
EARLY BIRD SPECIAL: Register more than 2 weeks prior to the event to get special pricing...
Call 800-578-8580 for details!  Sell two new primary clients and you can come for free!
© 2008-2017 Trust Associates - All Rights Reserved
4426-B Hugh Howell Road, Suite 200 Tucker, Georgia 30084